Home
Main content starts here, tab to start navigating
GIFT CARDS
Slide 1 of 9
Slide 2 of 9
Slide 3 of 9
Slide 4 of 9
Slide 5 of 9
Slide 6 of 9
Slide 7 of 9
Slide 8 of 9
Slide 9 of 9
@firstandsouth
Welcome to First and South, Greenport New York.
We start each day with fresh prepped meals, drinks & service. Open 9 years and running, we aim to provide a safe, kind & delicious meal whether it's to stay or take away. Currently, we offer outdoors dining in our heated tent. All of our food & drink is served in one time use, eco-friendly packaging, bamboo plates & recyclable plastics.
Our front patio & tent is decorated by artist Cindy Pease Roe. Her Upsculpt project takes hundreds of pounds of beach debris and repurposes it into handmade sculptures & light fixtures. We also feature resident chalk artist Kara Hoblins art in our windows and inside our dining room on our 15ft chalk wall. And our interior walls are graced with professional photographer Jeremy Garretsons stunning landscapes.
2021 Kara Hoblin Chalk Art Collection Calendar
Click the link & treat yourself to a hopeful year ahead...2021 Calendar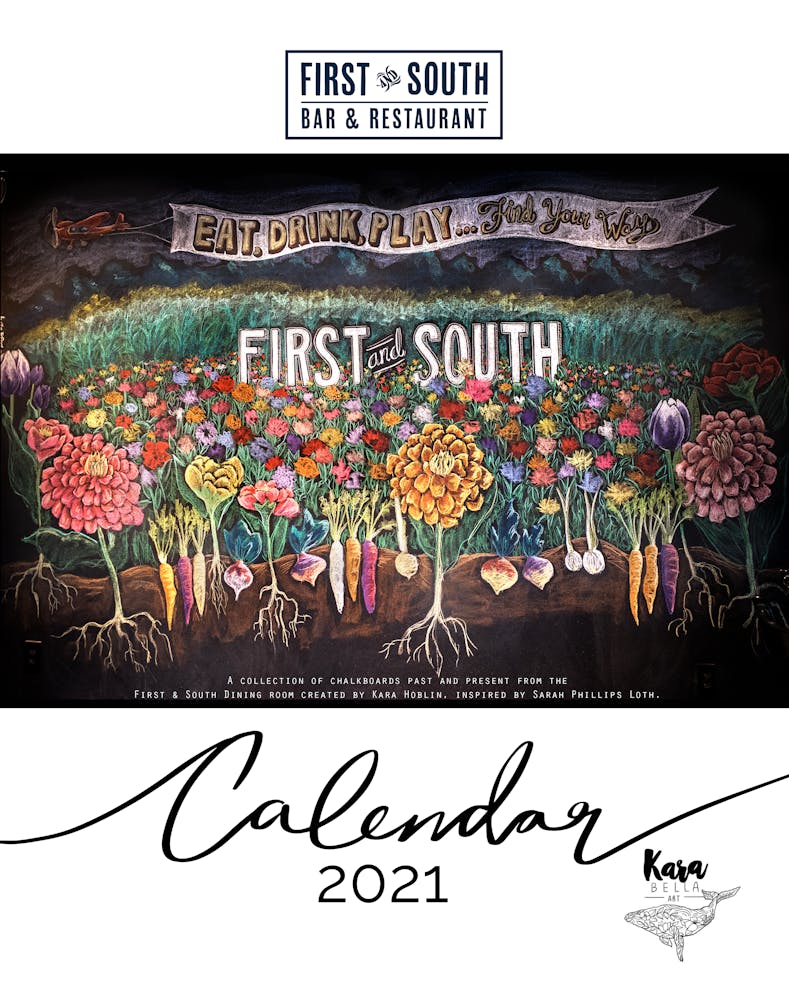 Artist, Kara Hoblin works in various media, including chalk, drawing, painting, photography and collage. A sense of childlike wonder is apparent through the whimsical narratives of her work. Inspired and drawn to the natural environment she finds comfort in the feeling of the earth beneath her bare feet, icy saltwater on her skin, or crisp air brushing against her face. Working collectively to share, connect, and inspire others through creation and exploration of our natural light and darkness.
COVID 19 & Us
We are COVID19 conscious.
Minimally 100 guests join us for food & drink per week therefore we serve all guests in TO GO style containers & ECO-Friendly bamboo plates & utensils come with your meal for dining on our porch & patio. Our bathroom is available for guests only & is sanitized between each guest to keep YOU as safe as possible!
These actions keep OUR staff as safe as possible ~ and full circle, keep our guests safer than any other style of service.